​​
| | | |
| --- | --- | --- |
| | | |
| | | |
| --- | --- | --- |
| | | |
| | | |
| --- | --- | --- |
| | | |
The BPM Festival 10mo. Aniversario
Más de 460 artistas y 80 presentaciones anunciadas,

descarga la Aplicación móvil, fechas del tour mundial Vamos A La Playa
y anuncio de la nueva fiesta de autor
'

The BPM Festival presenta Solamente' con The Martinez Brothers
6 – 15 de enero, 2017
Playa del Carmen, Riviera Maya, Mexico
Soundcloud] The BPM Festival Podcasts – Escucha aqui!
049 – Sharam (Yoshitoshi)
050 – Andrea Oliva (ANTS)
051 – Wolf + Lamb (Crew Love)
052 – Lee Burridge (All Day I Dream)
053 – Cristoph (All Gone Pete Tong)
[YouTube] Documental Oficial The BPM Festival: Dancing In Paradise – Trailer aqui!
The Martinez Brothers at Blue Parrot | Photo credit: Pearcey Proper for TheBPMFestival.com
The BPM Festival 2017 se enorgullece en anunciar más de 80 presentaciones y 460 artistas para su décima edición en Playa del Carmen, México, del 6 al 15 de enero del 2017. Las presentaciones incluyen a los sellos de fiestas más buscados en el mundo, las disqueras más respetadas y los eventos de autor más exclusivos. Año tras año, The BPM Festival continúa acertando como la máxima experiencia de festival para seguidores de la música dance underground, profesionales de la industria y artistas de todo el mundo.
Con la introducción de un nuevo evento de autor en esta edición 2017, The BPM Festival presenta Solamente con The Martinez Brothers el 11 de enero del 2017. The Martinez Brothers llevarán a sus fans por un viaje musical de principio a fin para recordar el arte de ser un DJ, como cuando los artistas se presentaban con sets maratónicos. Este primer evento anual llamado Solamente, presentará al dúo originario de Nueva York como el único artista de la noche, para darles la oportunidad de demostrar su maestría real en el estilo de ser DJ y programación musical en las tornamesas durante un set de 8+ horas.
Para set times oficiales, mapa del festival, noticias de última hora y fiestas sorpresa – descarga la aplicación oficial The BPM Festival Mobile App, disponible paraiPhone y Android. Consigue la App ahora para recibir notificaciones de invitados especiales durante el festival, además de un útil organizador de eventos, BPM Radio con exclusivas mezclas de artistas BPM, pronóstico del tiempo, y una útil función llamada Get Tickets para compra de boletos.
A medida que crece la emoción por la próxima edición The BPM Festival, el festival está anunciando una nueva serie de eventos pre-party llamados 'Vamos A La Playa'. Durante el mes de diciembre y principios de 2017, únete a The BPM Festival en las pistas de baile en Brasil, Canadá y Estados Unidos con presentaciones de aquellos que han sido favoritos de BPM durante un largo tiempo – Hector y Stacey Pullen.
Una cantidad limitada de boletos sencillos por evento ya están a la venta con lineup completo anunciado y habrá más noticias liberándose en los próximos días. Sé el primero en enterarte de las presentaciones exclusivas y detalles de las fiestas siguiendo la cuenta oficial de The BPM Festival en Snapchat, para disfrutar de exclusivas probaditas del lineup, artistas a cargo, y vistas del detrás-de-cámaras (agrega a @TheBPMFestival aqui).
Una cantidad limitada de brazaletes (3-días, 7-días y 10-días) y boletos sencillos por evento, están disponibles hasta agotar existencias en www.thebpmfestival.com/tickets.
The BPM Festival 2017 – Fechas de Vamos A La Playa Global Tour
Diciembre 26 Toronto, Canada @ NEST con Stacey Pullen
Diciembre 30 El Paso, Texas @ 301 con Hector
Diciembre 31 Las Vegas, NV @ MNTRA Presents con Hector
Enero 1 Toronto, Canada @ NEST con Hector
Enero 5 Itajai, Brazil @ Warung con Hector
Enero 7 Jaguaruna, Brazil @ Warung Presents at Place Beach Club con Hector
The BPM Festival 2017 Showcases (*nuevos incluidos)
Enero 6 ANTS
Enero 6 Friends of Pets
Enero 6 Knee Deep In Sound
Enero 6 MATERIA
*Enero 6 OVUM
*Enero 6 Pacha INSANE & FACT
*Enero 6 Secretsundaze
*Enero 7 Akbal Music
Enero 7 All Day I Dream
*Enero 7 BE YOURSELF
Enero 7 Better Lost Than Stupid
*Enero 7 Deeperfect
Enero 7 Kingdom
Enero 7 Mixmag presents YA'AH MUUL I
*Enero 7 Superfreq
*Enero 7 tINI and the gang
*Enero 8 Crew Love
*Enero 8 Culprit
*Enero 8 Making Shapes
Enero 8 Music On Jungle
*Enero 8 Nick Curly presents Trust
*Enero 8 Smoke N' Mirrors
Enero 8 Suara
*Enero 8 Subliminal presents Erick Morillo
*Enero 8 Toolroom
Enero 9 Intec
*Enero 9 It's All About The Music Live
Enero 9 Keinemusik
*Enero 9 Kompakt
Enero 9 Music On Day
Enero 9 Repopulate Mars
*Enero 9 UNDR THE RADR
*Enero 10 Cajual vs. Relief
Enero 10 Diynamic in The Jungle
Enero 10 Dusky Presents
*Enero 10 Hot Creations
Enero 10 Transmit vs. Tronic
*Enero 10 Voyage Direct
*Enero 10 We Are The Night
Enero 11 Apollonia All Day Long
*Enero 11 Do Not Sit By The Ocean
*Enero 11 Listed presents Play
*Enero 11 Music Is 4 Lovers presents Mother Recordings
*Enero 11 Nonstop vs. D-Floor
*Enero 11 Numero 00
Enero 11 SNATCH!
*Enero 11 The BPM Festival presenta Solamente: The Martinez Brothers
Enero 12 [a:rpia:r]
*Enero 12 All Gone Pete Tong
*Enero 12 Bedrock
*Enero 12 Detroit Love
*Enero 12 Domino Showcase
*Enero 12 Mindshake
Enero 12 Paradise
*Enero 12 R&S Records presents In Order To Dance
Enero 12 Stereo Productions
*Enero 13 Anjunadeep
*Enero 13 Bar Americas presents Carnaval
*Enero 13 Desolat
Enero 13 Kaluki
*Enero 13 My Favorite Robot Crossing Wires
Enero 13 Octopus Recordings
Enero 13 SCI+TEC
Enero 13 Solomun +1
*Enero 13 Visionquest
Enero 13 Warriors
*Enero 14 FORM
Enero 14 Nicole Moudaber presents MOOD
*Enero 14 Pioneer DJ Radio & Ibiza Sonica Showcase
*Enero 14 ++
*Enero 14 A Club Called Rhonda
Enero 14 RUMORS
*Enero 14 The Bunker
Enero 14 Vatos Locos
Enero 14 YA'AH MUUL II
*Enero 14 Yoshitoshi
Enero 15 elrow
*Enero 15 Desert Hearts presents Playa Hearts
*Enero 15 The BPM Festival Official Closing Party
*Enero 15 This Is The End
Lineup The BPM Festival 2017
&ME
ACID BOYZ
ACID MONDAYS
ADAM PORT
ADELINE
ADNAN SHARIF
ADRIAN HOUR
ADRIATIQUE
AFRO JUNKIES
ALBERTO JOSSUE
ALBUQUERQUE
ALEX BAU
ALEX KENNON
ALEXIS MORON
ALI KHALILI
ALYX ANDER
AMINE EDGE & DANCE
AMIR NIAN
ANABEL ENGLUND
ANART
ANDRE BULJAT
ANDREA OLIVA
ANDREAS HENNEBERG
ANDRETTA
ANDROMO
ANDY MARTIN
ANDY PHILIP
ANDY WARREN
ANIMAL & ME (LIVE)
ANIMAL TRAINER
ANNA TUR
ANTHONY ATTALLA
ANTIGRAVITY
APOLLONIA
ARDALAN
ARIVI
ART DEPARTMENT
ASHWORTH
AVISION
BABY JOEL
BALCAZAR
BAMBOOK
BARBY RUSH
BARDIA F
BARRACK
BAS IBELLINI
BASIC SOUL UNIT
BASTARD LOVE
BAWA
BEHROUZ
BEN ANNAND
BENSOL
BERNIES_DICTION
BETTER LOST THAN STUPID
BILL PATRICK
BIRDS OF MIND
BLACK ASTEROID
BOg
BONOBO (DJ SET)
BORIS
BRENT HAYWARD
BRETT RUBIN
BRYAN KASENIC
BUTCH
BWANA
CAJMERE
CALEB CALLOWAY
CARABETTA & DOONS
CARL COX
CARL CRAIG
CARLO LIO
CARLOS CASTANO
CASSY
CATZ 'N DOGZ
CHAD ANDREW
CHAIM
CHRIS GARCIA
CHRIS LARSEN
CHRIS LIEBING
CHRISTIAN SMITH
CHUCK DANIELS
CHUS & CEBALLOS
CITIZENN
CJ JEFF
CLARIAN
CLIMBERS
COCODRILLS
CONTI & LEO JANEIRO
COYU
CRISTIAN VARELA
CRISTOPH
CRYPTIK
CUARTERO
CUKY
D'JULZ
DA VID
DADON
DAJAE
DAKAP
DANCE SPIRIT
DANI VESCOVI
DANIEL BELL
DANNY TENAGLIA
DANY RODRIGUEZ
DAVE FATHOM
DAVE TURK
DAVID BERRIE
DAVID GTRONIC
DAVID KENO
DAVID SCUBA
DAVIDE SQUILLACE
DE LA SWING
DEAF HOES
DELANO SMITH
DELIA ROS
DEMUIR
DENIS SULTA
DENNEY
DENNIS CRUZ
DENNIS FERRER
DENNIS SULTA
DEREK PLASLAIKO
DERICK FREY
DETLEF
DINO GARDIAKOS
DJ ADDY
DJ DEP
DJ HEATHER
DJ SKIZZO
DJ T.
DLUX
DOC MARTIN
DOMENICO SCAVONE
DOPEKATZ
DOUBTINGTHOMAS (LIVE)
DROOG
DUBFIRE:LIVE HYBRID
DUMONT & WAGENER
DUSKY
DUSTY CARTER
DWIGHT EVAN
DYED SOUNDOROM
EAGLES & BUTTERFLIES
EDU IMBERNON
EDUARDO FERREYRA
ELIO RISO
ELLEN ALLIEN
EMANUEL SATIE
EMANATE
ERICK MORILLO
EVAN ESPINOZA
FABRICE DAYAN
FORT ROMEAU
FRANCESCA LOMBARDO
FRANCISCO ALLENDES
FRANK & TONY
FREDDY BE
FSQ
GAB RHOME
GABRIEL I
GENE FARRIS
GEORGE FITZGERALD
GEORGE PRIVATTI
GEORGE STAVRO
GERMAN BRIGANTE
GILES SMITH
GIO
GIOVANNY
GODDOLLARS & PARADISE
GORGON CITY (DJ SET)
GRAHAM SAHARA
GREEKO
GREEN VELVET
GREG GOW
GRI MOV
GUSTA.VO
GUTI (LIVE)
GUY GERBER
GUY J
HALLORAN
HANFRY MARTINEZ
HARRY ROMERO
HARVARD BASS
HASH HENDREX
HECTOR
HENRY CHOW
HERNAN CAYETANO
HIGHER CONCEPT
HOJ
HONEY DIJON
HOT SINCE 82
HUGO BIANCO
IGOR MARIJUAN
IGOR VICENTE
IRIS SANTO
ISAIAH MARTIN
IVAN SMAGGHE
JACEO
JACKMASTER
JAMIE JONES
JAVIER CARBALLO
JEAN PIERRE
JEFF GOLD
JENILUV
JEREMY ISMAEL
JESSE COLOSSO
JESSE ROSE
JESUS NAVA
JIMBO JAMES
JIMMY LEE
JIZZ
JOE GODDARD (DJ SET)
JOE SMOOTH
JOEY DANIEL
JOEY KARAJ
JOHN ACQUAVIVA
JOHN DIGWEED
JOHNNY LEAL
JOHNNY TRIKA
JOILL
JOJOFLORES
JON RUNDELL
JONAS RATHSMAN
JONATHAN COE
JONNIE KING
JORAM FLYNN
JORIS VOORN
JOSELO
JOSH WINK
JUAN ATKINS
JUHEUN
JULIA GOVOR
JULIAN JEWEIL
JULIEN LORETO
JUNOLARC
JUSTIN MARCHACOS (LIVE)
K.E.E.N.E.
KAISERDISCO
KAN.E
KENNY DOPE
KENNY GLASGOW
KENNY LARKIN
KENYON CLIDERO
KERRI CHANDLER
KEVIN MELITO
KIDNAP KID
KIKI
KIM ANN FOXMAN
KOLLEKTIV TURMSTRASSE
KONDUKTOR
LAHUN
LATMUN
LAUREN LANE
LEBARON
LEE BURRIDGE
LEE CURTISS
LEE FOSS
LEE REYNOLDS
LEHAR
LEON
LEONARDO GONNELLI
LISBONA SISTERS
LOCO DICE
LOREN
LOST DESERT
LOUIE FRESCO
LUNA
MAGA
MAGDALENA
MAHER
MAHONY
MAN POWER
MANIK
MAR-C
MARBS
MARCO BAILEY
MARCO CAROLA
MARCO FARAONE
MARK KNIGHT
MARTIN BUTTRICH
MAT.JOE
MATHIAS KADEN
MATTHEW DEAR
MATTHEW DEKAY
MATTHIAS TANZMANN
MAUS
MAX CHAPMAN
MAXI STORRS
MC FLIPSIDE
MEJIA
MICHAEL MAYER
MICHAELANGELO
MIGHTYKAT
MIGUEL BASTIDA
MIGUEL PUENTE
MIHALIS SAFRAS
MIKE LARRY
MIKE MONTAÑO
MIKE SERVITO
MIKEY LION
MIKY J
MILI & MO
MIZ MEGS
MONO-POLY
MONOKY
MOON BOOTS
Mr. V
MR.C
MS. MADA
MUAN
MUSUMECI
MY FAVORITE ROBOT
NATHAN BARATO
NATIVE BEHAVIOR
NATURAL FLOW
NENO
NEVERDOGS
NHAN SOLO
NIC FANCIULLI
NiCe7
NICK CURLY
NICK MONACO
NICOLE MOUDABER
NIÑO ARBOL
NITIN
NO REGULAR PLAY (LIVE)
NOMAD
NORMAN H
OHASHI
OLIVIER GIACOMOTTO
OMAR LABASTIDA
OMAR TAPIA
OONA DAHL
OSCAR L
OXIA
PACO OSUNA
PAN-POT (THOMAS)
PAPA LU
PASCAL DAZE
PASCALE & NYMRA
PASKAL DAZE
PATRICK GROOVES
PATRICK TOPPING
PAUL C & PAOLO MARTINI
PEPE ACEBAL
PEPE MATTE
PETE TONG
PETRE INSPIRESCU
PHILIP ARRUDA
PINTO
PIRATE COPY
PIRUPA
PLEASUREKRAFT
POPOF
PORKCHOP
POWEL
PROK & FITCH
RAFA BARRIOS
RALPH LAWSON
RAMBO SPRINGSTEEN
RAMIRO LOPEZ
RAMYT
RANDALL M
RARESH
RAUMAKUSTIK
RENAAT VANDEPAPELIERE
RENATO RATIER
RHADOO
RICHY AHMED
RICKY SYFER
RIVA STARR
RIVKA M
ROBAG WRUHME
ROBBIE AKBAL
ROBERT JAMES
ROBOT EARS
RODRIGUEZ JR. (LIVE)
ROGER SANCHEZ
RONY SEIKALY
ROY DAVID JR
RUSS YALLOP
RYAN CROSSON
SACHA ROBOTTI
Sa'D "The Hourchild" Ali
SAEED YOUNAN
SALON ACAPULCO
SALVIONE
SAN PROPER
SANTÉ
SAVAGE & SHE
SEAN MILLER
SEB ZITO
SECE
SECONDCITY
SECRETSUNDAZE
SERGIO CUCALON
SETH TROXLER
SHAHAR
SHANNON YOUNG
SHARAM
SHAUN REEVES
SHELLEY JOHANNSON
SHIBA SAN
SHINY OBJECTS
SIAN
SIAVASH
SIDNEY CHARLES
SILKY
SIS
SKREAM
SLURM
SOLARDO
SOLOMUN
SONNS
SORDO
SOUL CLAP
SPORTING LIFE
STACEY PULLEN
STEFANO NOFERINI
STEVE BUG
STEVE GREEN
STEVE LAWLER
STIMMING
SUBLEVEL (LIVE)
SUPERLOVER
SUPERNOVA
SURREAL FLIGHT
SYDNEY BLU
TECHNASIA
THE LEGEND
THE MARTINEZ BROTHERS
THE MEKANISM
THE MIDNIGHT PERVERTS
THEO KOTTIS
THUGFUCKER
THUYVU
TIGA
TILL VON SEIN
TIMO MAAS
tINI
TOCAYA
TOM TRAGO
TRENT CANTRELLE
TRESCIENTOS
TRIBI
TRUNCATE
UMEK
UNER
VALENTIN HUEDO
VICTOR CALDERONE
VICTOR RUIZ
VIKEN ARMAN
VINCENT CAIRA
VLADA
wAFF
WALLY LOPEZ
WEISS
WESKA
WHO
WILLIAM DJOKO
WILLIS HALTOM
WOLF + LAMB
WONKA
XAVIER FUX
XO CHIC
YAYA
YOGI
YOTTO
ZOMBIES IN MIAMI (LIVE)
Jamie Jones at Mixmag Presents This is the End | Photo credit: aLIVE Coverage for TheBPMFestival.com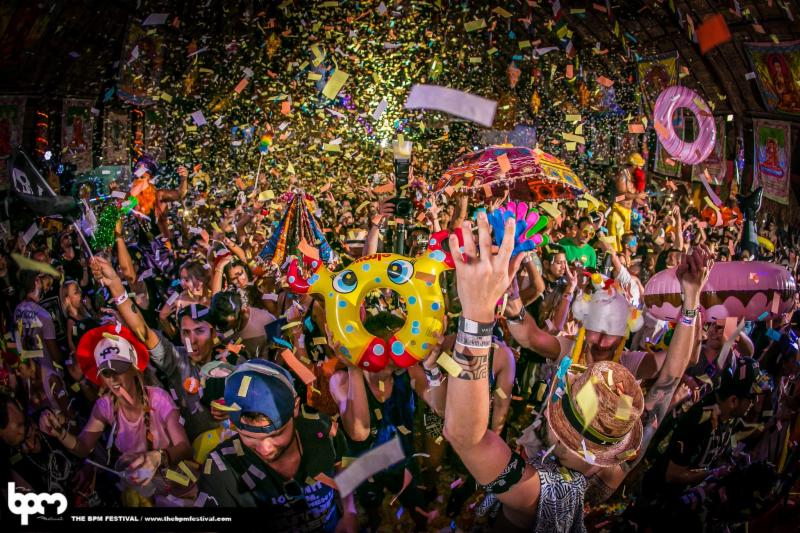 elrow | Photo credit: aLIVE Coverage for
ACERCA DE THE BPM FESTIVAL.
The BPM Festival es un evento anual de música electrónica, fundado por Craig Pettigrew y Philip Pulitano en Playa del Carmen, México. BPM significa "Bartenders, Promotores y Músicos" y fue inicialmente creado como una reunión de la industria durante las fechas posteriores a la temporada de año nuevo, que ha evolucionado hasta convertirse en una reunión global de más de 70 mil asistentes que incluye DJs, productores, revelaciones y profesionales de la industria; una visita obligada para cualquier amante de la música, con un gusto exigente por electrónica dance de calidad. Las fiestas de BPM suceden durante el día y la noche en múltiples sedes en Playa del Carmen; una pintoresca ciudad frente al mar que se extiende por playas de arena blanca y brillante agua turquesa en la Riviera Maya. Esta población ofrece una variedad de lujosos y accesibles condos y hoteles boutique, y un sinfín de opciones para comer y turismo, que incluye: zonas arqueológicas ancestrales, cenotes, deportes acuáticos y eco turismo. En 2013, The BPM Festival fue reconocido como 'Mejor Festival Internacional' en los DJ Awards en Ibiza, y en el 2016 fue nominado como "Mejor Evento Musical" en los International Dance Music Awards por tercer año consecutivo, además de ganar por primera vez como "Festival del Año" en los EMPO Awards del 2015 y con una nominación en 2016. En camino a su décimo aniversario, The BPM Festival continúa como un paraíso tropical para los amantes de la música dance y el escape de invierno perfecto.